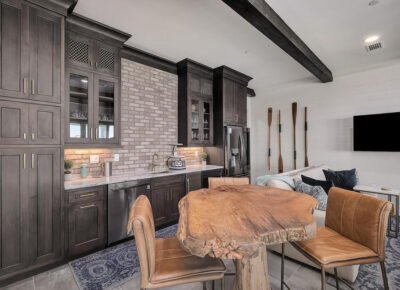 Are you a homeowner that wants to revitalize your kitchen space? Do you want to improve the look, function, and ease of moving around in your kitchen? At Cabinet Tree, we're ready for you…we are your dedicated solution for kitchen cabinets in Maple Shade, NJ!
We are based in a recently moved showroom that is just minutes away from you. Our showroom features the best in cabinetry from top name brands, and we can create a beautiful kitchen upgrade for you that works great for your style and budget. We offer the best selection and pricing for kitchen cabinets in South Jersey!
The professionals at Cabinet Tree understand how important your kitchen is as a part of your home. Your kitchen is where your loved ones gather, it's often where you begin and end your day, and it's where you spend time preparing meals for yourself, your family, and guests. Your kitchen should be a visually appealing and functional area of your home, that you and your guests love to spend time in. Cabinet Tree can help you turn your kitchen into a dream space.
In our 25-plus years of business in the South Jersey region, we've reworked and remade thousands of kitchens, bathrooms and other spaces. We've worked with a variety of architects, interior designers and builders, and our own staff has over 100 years of combined experience in kitchen remodeling. We'll help you choose the best combination of cabinets, countertops, flooring, tiles, backsplash and more for your kitchen. Best of all, we deliver top value for you in every price range…you have the choice of high end or budget-conscious cabinetry.
Our Maple Shade Cabinet Designers
With over 100 collective years of experience, our staff is heavily accredited in all areas of cabinet design. This team lives and breathes design, ensuring our clients a focus and determination for quality results that is unmatched. Our designers are also skilled in "2020" design software.
Ron Buzzetta
Ron's designs and cabinetry installation in the construction of a 10,000 Square foot custom home have been featured in various home magazines. Throughout his career, he has designed and built hundreds of custom kitchens and baths.
Art Davidson
Art has designed hundreds of kitchens, wall units, bathrooms, etc. for clients. He works in conjunction with a team of builders and interior designers to deliver outstanding projects that thrill his clients.
Kristan Briel
Kristan is extremely detail-oriented and effortlessly navigates architectural plans to help clients design their dream kitchens. Kristan is sought after by both homeowners and contractors for her functional and beautiful designs.
Tim Nowakowski
Tim initially studied the building trades, then worked for twelve years as a finish carpenter focused on kitchen and bath remodeling and installation. He then moved on to design and sales, using the in-depth knowledge he attained to create functional and attractive designs for clients.
Dixie Rivera
Dixie found her creative abilities in interior design and decorative painting. She's transferred her skills into designing kitchens and baths. Upon completion, she hopes the design will give them comfort, beauty, and efficiency. Her special quality is she truly loves making her client happy.
Meg Schultz
Meg enjoys working with the latest software to create detailed floor plans and render elegant, color perspective views for projects ranging from small-scale renovations to new-construction large, open-plan kitchens. She also specializes in bathrooms, entertainment areas, wet bars, laundry rooms, and office spaces.
Tracy Stinson
Tracy is a graduate of The Art Institute of Philadelphia, earning her certification in 1998 with a degree in Interior Design. With twenty-one years in the kitchen and bath industry as a designer, her exemplary design skills have made her a guru of all things design and aesthetically pleasing.
Rob Stango
Rob has been in the industry for over 40 years. He draws on the experience of owning a full-service remodeling company for over 20 years as a space planner, carpenter and cabinetry installer.
Christian Ancker
Christian graduated from the Art Institute of Philadelphia with a Bachelor of Science degree for Industrial Design. With 18 Years in the Kitchen design field, he excels at building relationships with his clients to achieve the perfect design for each.
Gina Dain
I'm Gina Dain – A graduate of Ursinus College. I earned my Master's degree in administration from Rider University. I've been blessed with a variation of gifts, skills and experiences – and the design field uses my abilities to enhance the lives of our clients.
Interested in seeing some of our finished projects? Have a look at our project gallery here, get great ideas for your kitchen, and see the difference we can make in your Maple Shade home.
Contact Your Maple Shade Kitchen Cabinet Professionals Today!
Let the experienced pros at Cabinet Tree be your choice for kitchen cabinets in Maple Shade. Call us today at 856-888-2220, or request a consultation online with one of our representatives. Or you can visit our nearby showroom, and see and touch our beautiful cabinetry products for yourself. The team at Cabinet Tree is looking forward to creating the kitchen of your dreams…take the first step today!